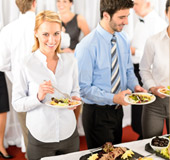 Events & Occasions
From casual to fine dining, Parthenon Coney Island has the experience to help you host the perfect party. With fantastic menu options, and a gracious staff, you can bet your event will be spectacular.
Corporate & Events
Planning a company gala or event is a lot simpler with our crew in your corner. Our staff has produced stylish functions for all sorts of corporate events. We make things perfectly seamless and professional.
Seasonal
With Parthenon Coney Island at your side, you can plan and host the most phenomenal holiday party. Offering twists traditional dishes as well as other beautiful culinary delights, we'll make your party sensational.